Services - Foundation Damp Proofing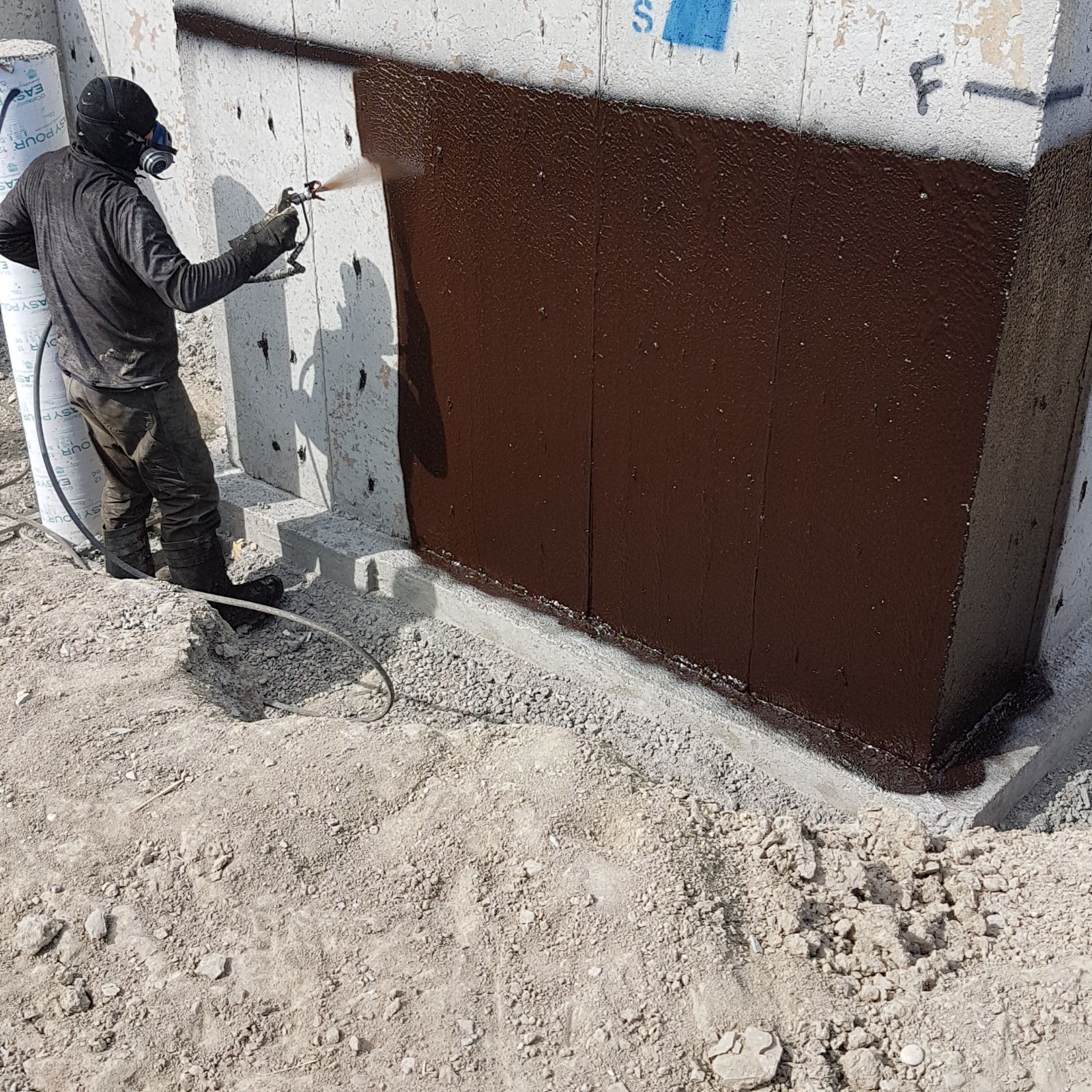 Any concrete or masonry foundation walls that retain earth and enclose interior spaces and floors below grade shall be damp proofed from the top of the footing to the finished grade. Foundation damp-proofing involves the installation of a plastic wrap, or membrane / air-gap membrane, installed onto a waterproofed foundation wall. A proper membrane is configured to facilitate the flow of water to the weeping tile. This also provides a barrier to keep wet soils from being in constant contact with the exterior foundation wall surface. The purpose of damp proofing is to prevent moisture from passing through the concrete walls into the interior space of your basement.
With proper surface drainage, correctly installed foundation drains at the footing, and the absence of hydrostatic pressure to drive water infiltration, damp-proofing can supply adequate and long-lasting protection for many crawl spaces and basements, especially in a typically dry climate such as Calgary region.
Standard Damp Proofing or Spray & Patch or Tar and Tab is one of the oldest forms of foundation protection and, as the minimum standard for the Alberta Building Code, is the most widely used product in the region. Damp proofing system is easy to install as the home is being constructed, these coatings are difficult and expensive to install several years after the home was built.
Difference between Damp Proofing and Waterproofing
When controlling the moisture within your home, it is wise to understand the differences between damp proofing and water proofing, in order to decide which is more cost effective and appropriate for your home. Although most people do not realize it, there is a big difference between damp proofing and water proofing. Damp proofing only keeps dampness out of your basement, but it does not necessarily prevent water from leaking in. Water proofing on the other hand prevents water from entering your basement through cracks.
When damp proofing, you will use proofing substance such as liquid asphalt. This material has the ability of preventing any dampness from reaching your floor and wall surfaces, as long as there are no cracks. Water proofing is achieved when holes and cracks are sealed with different types of water-proof materials, depending on the materials used to construct your house.
When you do both damp proofing and water proofing in different parts of your house, you will be assured that your things will not deteriorate as a result of moisture or water contact.

Quick Links
Contact Us
A&G Construction ,253231 Range Road 282
Calgary, AB T2M 4L5
info@agcons.ca